Ostarè "God Loves A Woman"
Written by admin on August 29, 2022
Ostarè "God Loves A Woman"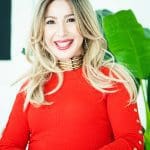 Ostarè "God Loves A Woman"
Inspirational new single, Celebrates inner child healing and self-empowerment 
"No one can tell you who you are, there is only one authentic version of you" says Ostarè. "You know and you have a mission – don't get discouraged. There is a light at the end of the tunnel."
(Los Angeles, California) Artist and musician, Ostarè has warmed hearts worldwide with her recent tracks' Show Em What You Got' and 'Deep Down.' Another must-listen single of the French-born songbird is 'God Loves A Woman.' The song's upbeat flow makes it easy to sing and even dance along. But behind the beautiful vocals and sounds is a resounding message of hope and healing for persons going through emotional challenges. 
'God Loves A Woman' follows her previous single 'Deep Down.' The inspiration for this soul-stirring track comes from a personal experience Ostarè had that has led her to reach out to the inner child. After experiencing a terrible car accident, she decided to reexamine the messages in her songs. Now she is determined to help people to nurture their wounded inner child who once felt unloved. She says, "It's time to embrace your power; I know God loves you." This powerful message teaches listeners to fall in love with themselves and embrace God's love and healing presence in every difficult situation.
In the song, Ostarè also says, "I was waiting for…you to be my home… for all the love to come," which highlights how sometimes we yearn for love in other places outside of God. However, she wants us to see things differently. She is encouraging people who are feeling lost or struggling with finding a place to belong to know that they will automatically find an everlasting home by finding God.
'God Loves A Woman' is a reminder, especially to women, to boost their self-confidence. "You can't say no one loves me anymore…Now you know God loves a woman", tells women of all backgrounds and ethnicities that whenever they have doubts, they should cling to the love God has for them, which is all they need to rise and chase their goals. But it's not just about women. The song speaks to how men and women can unite and move forward while enjoying God's universal love.
Ostarè on YouTube
Contacts for Ostarè
web: www.ostare.com 
---
Reader's opinions
---