Iliyan Kuzmanov Author Of the Month
Written by Mark Edwards on December 7, 2022
Iliyan Kuzmanov Is Number One!

Awesome News! The Number One Author In The UK Talk Radio Best Reads Chart is Iliyan Kuzmanov

Social Entrepreneur
Iliyan Kuzmanov is a Bulgarian writer, journalist, public figure, and social entrepreneur. Founder of the award winning social venture Ezo in London, and game changing Foundation Art Angel in Bulgaria. He gained international fame with If You Meet Buddha Kill Him!, the first book by a Bulgarian author to enter Amazon's Top 20 best-selling books (15th place). Winner of the Titans Book Prize, US, one of the Top 10 Writers with Greater Potential for 2022 by Art Daily, The Sexiest Writer Alive for 2021 by the cult Film Daily, 2021 Man of the Year in Bulgaria according Tv Evropa- Career (Euronews Bulgaria now) and the hipster writer who did the road Balkans Book Rock Toor 2021 in 5 countries.
Origin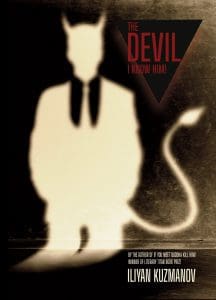 Heir of a significant family from the village of Kalugerovo, Bulgaria- enterpreneurs, major wine producers, and public figures. His great-grandfather Kuzman Mushev and his great-great-grandfather Lulcho Mushev are prominent personalities, wealthy landlords and philantrophes, created schools, libraries, churches. Kuzman is a WWI hero. They are honored with a public memorial. 
The family roots go deep into the Ottoman history of Bulgaria. As they are currently the subject of extensive historical research by the Bulgarian Academy of Sciences. 
Social Business
In Canada, community service begins for Ilian Kuzmanov. He started his career as a social worker at a centre for immigrant children. The next step was Concordia University, where Ilian studied and worked. He later taught history at the Bulgarian Cultural Centre and was part of the Liberal Party, as a personal assistant to one of Montreal's mayoral candidates.
Kuzmanov's legacy in the UK began with creating a multi- million business that helped him found project EZO, voted the best social initiative by the Londonist, one of the biggest cultural portals in England. It was a self sustainable community cultural hub, with a profound library in a train station in Barking, London. The venue works with homeless people, displays and sells art by homeless people.It also became known for the story of a woman who found her father, a homeless man, after 20 years, which was covered by the BBC. The coffee shop has its own library of over 3,000 books, also used by the Bulgarian community in London. The venue also serves as a meeting place for the Mensa society in the UK, for free bartending and cookery courses for the local disadvantaged community. It offers free food and drink to those in need. Ezo has been described as "a rare example of a train station coffee shop with soul" in the UK by one of London's biggest cultural portals,cited as "one of East London's eight true hidden gems" and one of the best cafes to work from. Iliyan Kuzmanov has been featured in the Bulgarian Academy of Sciences' publication for the Bulgarian cultural heritage in migration.
---
Reader's opinions
---