The New single By J.Á.H
Is
 'More Than Lust'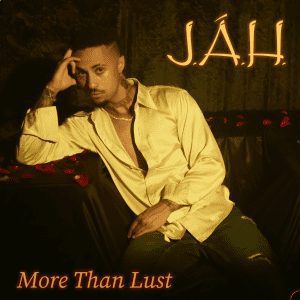 J.A.H chats to Uk Talk Radio's Geoff Carter about his new single 'More Than Lust' and more about the super awesome new music he creates.
J.Á.H new single: More Than Lust
J.Á.H.'s third single – More Than Lust, is infused with deep feeling and sensual creativeness, that makes you feel, there is only one J.Á.H. His voice has a unique magnetic quality, with emotionally inspiring lyrics that stay with you long after the song has ended. A great follow up to his earlier singles, Earned It, and In Denial which reached the top ten of the UK Talk Radio Hot 100.
The Shaping Of J.Á.H
J.Á.H.'s background of living in different countries shaped him to become the passionate, creatively driven, and sensitive individual he is today.
He believes that sharing his own personal highs and lows of coming up through life enables him to reach out and connect with others who share similar experiences through his soulful lyrics and artistry.
Intimate, expressive, and immediately compelling, Melbourne creative J.Á.H. explores a path that feels familiar but is entirely his own. Devoutly committed to his artistry, J.Á.H. entwines his passion with an innate ability to deliver contemporary and sensual lyricism akin to urban pioneers, the likes of The Weeknd, Justin Bieber, Drake and Justin Timberlake.
Born in London, raised in Los Angeles and Melbourne, J.Á.H. developed a keen ear for all genres of music experimenting with a variety of instruments, ranging from the guitar (inspired by his grandfather), drums, trumpet, to piano.
However, singing was always there from the beginning, lying dormant, until he started singing to his mother at the age of 11, to then take it seriously a year later, awaking his passion for singing for years to come.
For a short period of time, J.Á.H. performed with a DJ/Producer forging House Music with rhythmic beats, soft-pads, soulful lyrics and yet, still an energetic live performance that was sure to get everybody on their feet.
Live Music
With his live music, JÁH always seems to find a way to strip down any genre of music and turn it into his own R&B style. His main style is R&B/Pop, but also enjoys creating melodic R&B/Rap.
His music is still distinctively different and is recognized as his own, captivating people with his lyrics and yet still getting them to move with his music.
 Links

---
Reader's opinions
---