The Music Of The Pure Persuasion Project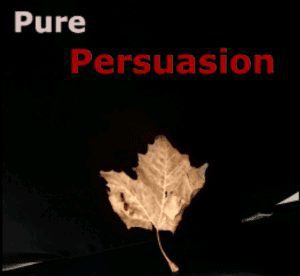 The Pure Persuasion Project was inspired by sad and unfortunate events; teenage and young adults, or anyone for that matter, giving up on themselves, forgetting the courage and the belief in themselves that got them through any adversity. The songs serve to inspire the listener to reawaken the courage to take on any challenge in life with the pure persuasion from within to win!
The core theme of the project is that rather than giving in to a sense of hopelessness, this first song, Pure Persuasion, reminds the listener to tap into that inner source of strength and courage that has become dormant, overshadowed by many years of anxiety, depression, setbacks, negative destructive thoughts, etc., and step up to reclaim that fearless determination to change now, starting with the Pure Persuasion from within.
Pure Persuasion Project UK Talk Radio Interview
Damion from the Pure Persuasion Project Explains more to Breakfast show host Geoff Carter
The YouTube Video
Pure Persuasion (to keep on living) ©2020 george nii amon ashie mmmnn
mnnn ooh oooh When you lose everything Don't go down with it all Someone might make you a deal To get you back on your feet If it is beyond your means… Forget that deal Put on your best clothes… Go on for a breather Pure persuasion to go on living can only come from you One day at a time ….mnnn yeah can only come from you One day at a time! Life ain't easy no no .. But don't take your life There's someone somewhere…mnnn… Who is worse off than you … So long as you can smile Keep out of slime Cos there's something in you That didn't die with what you lost Keep it alive by feeding it well ….with pure persuasion yeah…. (yeah yeah yeah.. One day at a time) Pure persuasion yeah (yeah yeah yeah… One day at a time) Pure oh ohh oh… …(yeah yeah yeah… One day at a time….yeah yeah yeah One day at a time yeah yeah yeah! Long as you can smile ah! Keep out of slime ah! Cos there's something in you That didn't die with what you lost Keep it alive by feeding it well with pure persuasion yeah yeah yeah yeah yeah-yeah ah! ah ! ah! …. (yeah yeah yeah) Pure persuasion … (yeah yeah yeah) Yeah yeah …Pure persuasion … yeah-yeah yeah…. Pure persuasion …
---
Reader's opinions
---