Kayla Cunningham author – Fated To Love You
Written by dave smith on July 14, 2023
Kayla Cunningham Author Of
'Fated To Love You'
The official review from Geoff Carter CEO, Uk Talk Radio
Unleash the Power of Destiny in " Fate to love you" by Kayla Cunningham! Prepare to Be Captivated!

💔 Heartbreak, Rainforests, and an Unforeseen Love! Brace Yourself for "Fated To Love You" by Kayla Cunningham!

In the midst of heartache, Kayla Cunningham takes us on an emotional rollercoaster through the captivating pages of "A Twist of Fate." Get ready for a breathtaking tale of love and destiny that will leave you yearning for more!
🌿 Journey to the depths of Colombia's Amazon Rainforest as our protagonist, guided by the hand of fate, discovers a life-altering study abroad program. Prepare to be swept away as she navigates the untamed wilderness, seeking solace and purpose.
💔 Little did she know, destiny had a different plan in store. Enter a captivating stranger who steals her heart, forcing her to confront the harsh reality that their time together may be fleeting.
🔥 From the ashes of heartbreak and the allure of the rainforest, love blossoms against all odds. Their connection grows, defying the constraints of time and distance, leaving them both yearning for a future entwined by destiny's hand.
💫 Embrace the raw emotions, the breathtaking beauty, and the undeniable power of love in "A Twist of Fate" by Kayla Cunningham. Get ready for a rollercoaster ride of fate, passion, and the unwavering belief that love conquers all.
🌟 Don't miss out on this heart-stirring novel that will make you question the boundaries of destiny. Join the author on a riveting journey through the Amazon Rainforest, where every page reveals a new twist of fate that will leave you breathless.
✨ Let "Fated To Love You" ignite your soul and awaken the believer in you. Kayla Cunningham's evocative storytelling will have you captivated until the very last word, making this a must-read for lovers of romance and destiny.
In Summary, this is not your typical romance novel. The couple is a biracial couple— Chinese-Korean male and American California surfer girl. After fate throws them together in a mudslide, they have to battle Xuan's cancer diagnosis and racism in their relationship.
★★★★★ – A spellbinding tale that will make you believe in the extraordinary power of fate!
#KaylaCunningham #DestinyUnleashed
Join Cassie and Zhang on a journey of true love, blazing as fiercely as the stars, as they navigate the complexities of destiny and defy the odds that stand in their way.
About the Author

Kayla Cunningham holds two education degrees, and she teaches history at the high school level and adult ESL, while also volunteering as a Hostage Crisis Negotiator. She is currently working on her Ph.D. in Teaching English as a Second Language and enjoys taking flying lessons with her husband. Kayla has a passion for traveling and meeting people from different cultures around the world. She hosted six boys from China and has traveled to Asia many times. She was born in San Luis Obispo and raised outside the city of Santa Cruz, California. She is an advocate of exploring issues of racism and current events, including the rise in Asian hate crimes caused by the pandemic. Fated to Love You is Cunningham's first contemporary romance novel. She just completed the second installment of the Chasing the Comet series and is currently working on a YA fantasy trilogy called Storm Breaker.
Reviews
"With relatable characters, a compelling plot, and thought-provoking themes, Fated to Love You is a book that will stay with readers long after they have turned the last page." – Manhattan Book Review


"Fated to Love You starts off with one of the closest things to a literal bang I can think of." -Seattle Book Review

"The author's creativity in exploring strong themes in this engrossing tale made it possible to award the book a perfect rating. I recommend this book to lovers of romance fiction and also to persons whose relationships may be going through certain upheavals." -OnlineBookClub.org Review

"More than just a romance, Fated to Love You brings to life the struggles of two very realistic characters."
-Portland Book Review

"Fans of Nicholas Sparks and John Green's The Fault in Our Stars, pick up this book!" -Author Miranda Lee

"Cassie and Xuan's relationship is one worth mimicking, as it shows the devotion and love they hold for each other, while not letting anything or anyone get in the way."
-San Francisco Bay Area

"This book discloses the fundamental mystery of where the very core of love germinates from and the elements that keep it prevailing, despite the odds."
– OnlineBookClub.org Review
EVERY BOOK SOLD HAS A PORTION GO TO TWO CHARITIES: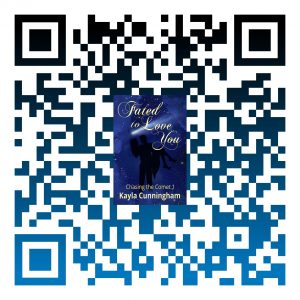 Read for a Better World:
Every Book You Buy Gives Back!
Indulge in a heartwarming tale of love while making a positive impact on the world. With every purchase of Fated to Love You, a percentage goes directly to supporting charitable organizations that make a difference in our world communities. Not only will you be enjoying a great read, but you'll also be making a positive impact on the world.
The story begins in Colombia, where the protagonist, Cassandra Steel, goes on a science study abroad. She visits the rainforest and raises school supply donations to take to kids.
With every copy sold of this first novel, a percentage of the proceeds will be donated to two organizations that are close to the story and the protagonist's heart: the Amazon Conservation and Save the Children. These charities are tirelessly working towards conserving the Amazon rainforest and improving the lives of underprivileged children in Latin America.
Find out more about these amazing organizations, here:
Join me on a mission to create a better world, one book at a time. Purchase Fated to Love You today and experience the joy of giving back to society. Let's make a difference together!
Also Read: Author Of The Month
---
Reader's opinions
---