Music From WΞLTSCHMΞRZ
Written by dave smith on September 29, 2023
Music From WΞLTSCHMΞRZ

At Uk Talk Radio we focus on new music. We bring to your attention WΞLTSCHMΞRZ who unveils "Kanashimi", immersing you in a musical venture that captures the tranquil essence within bustling urban scenery. The track features a blend of rough breaks, organic bass, haunting piano chords, and captivating lines that resonate with your senses, evoking introspection and nostalgia.
The meaning behind the song
The title, "Kanashimi", translates to "grief" in Japanese, perfectly capturing the emotional essence of the music. Delve into the contemplative ambiance of WΞLTSCHMΞRZ's debut release.
The extended mix is available here:
Social media links: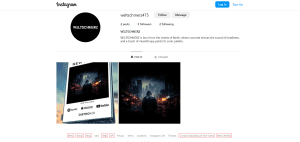 Soundcloud:
Also Read: Tokyo Treasures: Your Ultimate Guide
---
Reader's opinions
---