Unleash Your Potential!
Written by Mark Edwards on October 18, 2023
Unleash Your Potential: A Journey to Empowerment 
Your best life is within reach – ready to grab it?
Are you standing on the edge of change, ready to take the leap, but uncertain of the path forward? If the answer is yes, "Unleash Your Potential: Embracing Empowerment for Personal Growth and Fulfillment" is the catalyst you need.
This book isn't a quick fix but a transformative journey. Through understanding empowerment, overcoming limiting beliefs, setting meaningful goals, and building resilience, you will uncover the boundless potential that lies within you.
Delve into this book to:
Uncover the true essence of empowerment

Recognize your unique talents and passions

Master the power of setting and achieving SMART goals

Learn the art of resilience amidst adversity
By turning these pages, you will:
Embrace a life of heightened self-confidence and self-assuredness

Develop the ability to turn challenges into stepping stones

Harness the potential to positively impact your community

Unlock the secret to a life of fulfillment and purpose
This book is a must-read for those who are:
Aspiring for personal growth and self-improvement

Seeking strategies to overcome anxiety and negative self-talk

Desiring to develop healthy relationships and effective communication

Keen on turning their life around, breaking free from stagnation
"Unleash Your Potential" is your ticket to a transformative journey – a path that will lead you to a life of personal growth, empowerment, and fulfillment. It's not about becoming someone else but blossoming into the best version of yourself.
Are you ready to embark on this life-changing journey?
Take the leap. Dive into the transformative power of self-discovery.
 "Unleash Your Potential: A Journey to Empowerment
The Unleash Your Potential On Amazon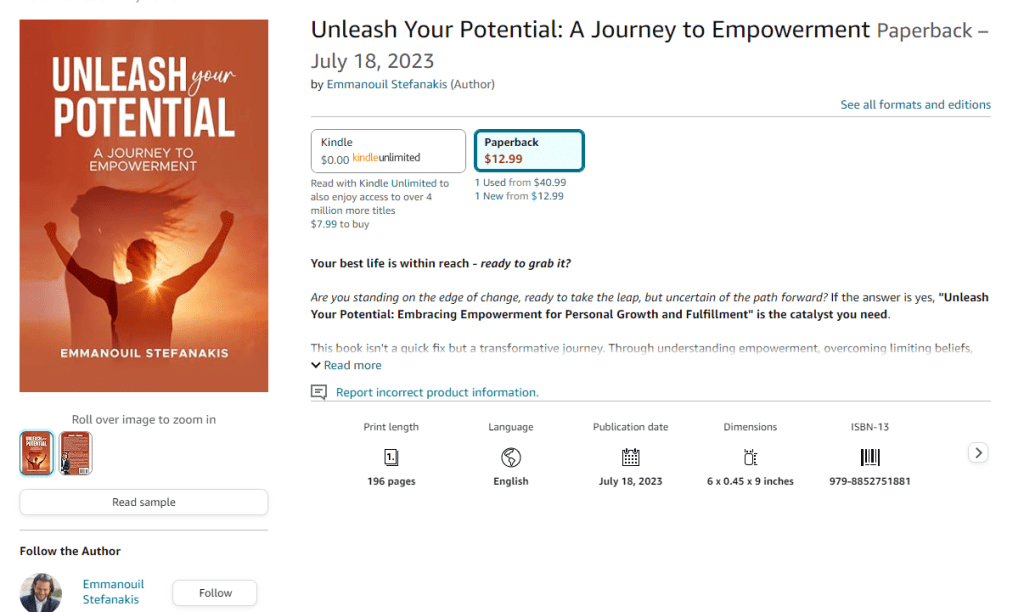 See Also The UK Talk Radio Radio Presenter Training Course
---
Reader's opinions
---
Continue reading