Pax Nindi aka Harare Dread
The master of African Reggae, Pax Nindi aka Harare Dread is set to release his new album titled 'Kushi' on 16th September. The record's title is slang for 'home' in the Zimbabwean language, Shona and pays tribute to the motherland of Africa. It also spans vibes and rhythms from the Caribbean and Brazil. Listeners can expect to tune into universal wavelengths transmitting messages of positivity in various languages as well as lyrics which touch on important social issues.
The Recording of 'Kushi
Kushi was recorded in Holland, Brazil, Ghana and the UK and includes a selection of features from a number of special guests. One of these is the recently departed Dito D'oxossi Neves, spiritual leader of Brazilian percussion group, Afoxé Ylê de Egbá. He provided Portuguese vocals on 'Brazilian Kushi'. 'Ndamba' features Ghananian legend Ata Kak, for whom Pax has played bass since the celebrated 2014 re-issue of 'Obaa Sima' on Awesome Tapes From Africa. On Kushi, he sings in Ghana's Ewe language. Aside from Dito, Pax has collaborated with a number of renowned musicians for the record who hail from one of Brazil's musical epicentres, Pernambuco. 'African Kushi' includes accordion king, Daniel Bento and has percussive elements which were produced by Jorge Riba. Pax's own lyrics are sung in English as well as African Shona, Chichewa and Ndebele dialects.
The LP, as Pax's previous records, will be self released on Nindi Music and available to buy on stream from 16th September.
'Kushi' TRACKLIST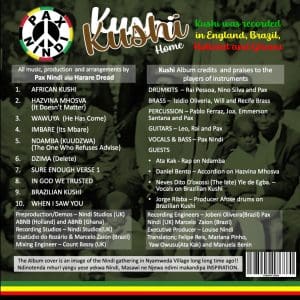 1.African Kushi (feat. Daniel Bento)
2. Hazvina Mhosva – It Doesn't Matter
3. Wawuya – He / She has arrived
4. IMbare – Its Mbare
5. Ndamba (feat. Ata Kak)
6. Dzima Delete
7. Sure Enough Verse 1
8. In God We Trusted
9. Brazilian Kushi (feat. Expedito Dito D'oxossi Neves)
10. When I Saw You
Social Media
Facebook: www.facebook.com/pnindi
Youtube: www.youtube.com/c/paxnindi
Instagram: www.instagram.com/paxnindi
Twitter: www.twitter.com/paxnindi
Soundcloud: www.soundcloud.com/paxnindi
Bookings: https://www.globallocal.co.uk/pax-nindi
---
Reader's opinions
---