I Love & Adore You by Candy Rose Ft Cyrus Malachi
Written by dave smith on August 10, 2023
At Uk Talk Radio it's our mission to bring you new music. Right now, we welcome Candy Rose
I Love & Adore You by Candy Rose Ft Cyrus Malachi
Artist: Candy Rose
Release: I Love & Adore You
Release Date: February 19th 2023
Label: iCandyRose Records
Tracklist:
01 I Love & Adore You
02 I Love & Adore You – The collab version
(feat Cyrus Malachi)
03 I Love & Adore You – The Klub Mix
Contact: press@icandyrose.net
Insta/social media: @icandyrose
Candy Rose, the UK artist fondly dubbed The Queen of Hooks for her catchy song writing, will be dropping this hot new sexy release on the 19th of February 2023 (with pre-release on the 12th of February 2023.
Taken from her long-awaited album, which is scheduled for release in the summer of 2023, I Love and Adore you features a surprise feature with Cyrus Malachi, founding member of Triple Darkness and an established solo artist, who is also a gritty MC from London with an instantly recognisable style. He is the other half of the Postmodernism LP alongside Cappo. Cyrus burst onto the UK Hip-Hop scene with his Triple Darkness crews 2008 release and debut album 'Anathema', an L.P which has become known as a UK classic, as it brought one of the most unique, distinctive sounds ever heard on these shores. You get to experience that distinctive sound on the second track from Candy's I Love & Adore You which features Cyrus. For the Klub Mix, Candy has teamed up with the legendary dynamic production duo of brothers Dan Mathews and Sam Michaels popularly known as "Klubjumpers" who are largely recognized as one of the best teams to dominate the charts. With over 35 years of experience, the scope of their work, along with their vast accomplishments and awards it's easy to say the Klubjumpers have created a lasting legacy in the music business; and with over 80 Billboard charting songs, over 30 million records sold, Grammy nominations and a recording studio filled with endless gold and platinum plaques, the Klubjumpers have earned a prestigious spot
as one of the best in the business. The star-studded list of artists Klubjumpers works with speaks for itself with artists such as Madonna, Snoop Dogg; Micheal Buble; Britney Spears; Linkin Park; Seal; Gloria Estefan; Jorge Santana; Frankie J and so many more (and of course, Candy Rose).
Candy has been working with Klubjumpers for over 10 years, and their collabs can be heard across various releases from Candy over the years, as she likes to work with the best, and they do not disappoint on Track 3 of this new offering from Candy.
About the Artist: Candy Rose is an unsigned, 100% independent Singer/Songwriter from London, U.K. She writes/co-writes all her material and has many influences, such as the Late Great Michael Jackson, Madonna, Dolly Parton, Nirvana, Missy Elliott, Janet Jackson, Fall Out Boy, Sam Cook and Anita Baker to name a few. Upon arriving at the music scene, she was tipped as one of the U.K Artists to watch and keep listening to as she is not restricted in her genre or style of music and her works features something for all. She continues to deliver.
Her music has featured in various project covering movies – most notably Magic Mike XXL; Games, TV shows,  BBC Click and Adverts (and all sorts).
All music by Candy Rose is available on iTunes, Spotify, Amazon Music and all digital platforms. CDs are rarely printed, as she's very green, so they have become collector's items and can only be found on very limited sites such as Amazon, CD baby and very select and hand-picked retailers – if still available.
For more, follow her on twitter and Instagram – where she is most active, and comment, message, like and share.
Keep listening…
Some Buzz? Here's what some say about Candy's Music:
"Escapism Featured on BBC Click's Webscape – Kate Russell "thank you – you're a very talented singer" Kate Russell – BBC Click!
"Candy Rose has diversified to various audience markets over her career to date but, I think she has now found her niche with this EP – (Hooked on You EP). Can you deliver is my favourite and I hope this delivers success to her."
— Graeme Logan – Host/DJ/Presenter, Leith FM
"Fizzling eclectic girly Pop!" – NME Magazine "
"Queen of Hooks! Candy Rose Knows how to draw you in. She knows how to create a beat that moves the heart and a rhythm that frees the soul. Her album, A Rollercoaster Love, will grab hold of you and take you on a ride you will never forget." – Zack "The Mothman" Daggy – Producer, DJ, Radio Host and Author – Album Review of A Rollercoaster Love "Dance gems Abound on this quick shot disc of 7 club tracks from budding London Artist, Candy Rose. After listening to Candy Rose's Meet You In The Club for the first time, there will never be a last. It's that hot." – Michael Morgan – Producer and Host of Indie Soup Runner's Edition. Album Review – Meet You In The Club "Though the Artist herself remains elusive for the time being, that hasn't stopped her from garnering a real fan base here at Vox Africa" Vox Africa – AfroBuzz London Fashion Week edition "This album embraces pop music in all its forms, from dance music for the clubs to post-punk rocking out" – Jason Randall Smith, Album Review – A Rollercoaster Love "Hypnotic electro beats that leave you asking; who is Candy Rose?" – James Sherwood, Producer and Presenter of
AfroBuzz in English – Satellite TV Station "After listening to Candy Rose's music, I sat back and said to myself there's a great artist in the making… I think Candy Rose is a rising star who writes and sings great  tuff, one day I'd like to see Candy Rose at number one on the UK chart." – Nev Eaglen, DJ and presenter, Gravity FM "Candy Rose – A Rollercoaster Love… Lady Gaga has competition" Fly Fm Student Radio – Fly FM  'The whole album is top-notch! From dance to R&B, to rock, Candy Rose covers all genres and covers it WELL!
The only thing I keep asking myself and like to ask her: Where have you been all this time?!'" The Dutch Guy – FastMoving Radio Personality – Cool FM 105.3/107.7 – The Netherlands " "Candy Rose is not only talented and real, but her music moves you. She is a phenomenon and one to watch." Diane Broomfield – WDGP Radio "Candy Rose's music is like candy, keeps me coming back for more! Her song 'You are everything' is so sugary sweet and delicious, it's a song I never get tired of listening to! Candy's voice is infectious, and the beats have my toe tapping from the start of the song. Looking forward to seeing her bring it all to life in her live show!" – Les Zaldor,
DJ and presenter, Bounce Radio
Links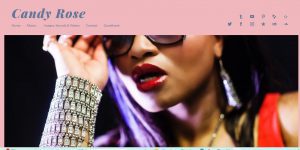 Also Check: Tony Losito with Sacred Obligation, The True Story of America's Cop
---
Reader's opinions
---