No Serial Killer With A New Concept
Written by Mark Edwards on December 2, 2022
No Serial Killers Awesome New Music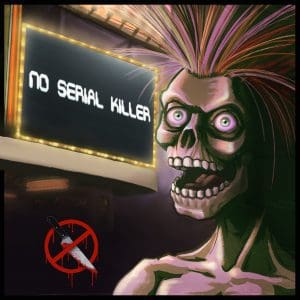 No Serial Killer have recently completed a 44-track, quadruple-album of original songs. Every single song on the album is excellent!
No Serial Killer is a music concept designed to eliminate murder in society.
It's the brainchild of AKM, a self-taught pianist/songwriter. He plays the piano like a bass guitar and calls it 'bass piano'. He wrote all of the songs and enlisted the help of professional musicians online to perform them. AKM is from Nottingham, England.
Most of the musicians are from North America. The album was done online and the musicians never met in person.
No Serial Killers Reach Across The World
*Please note adult content on the YouTube video*
No Serial Killer's music has appeared on BBC radio. Their songs are played on various radio stations around the world every single day. Three of No Serial Killer's songs were selected by Radio Stradbroke as the 'Record Of The Week'. Each song was played once a day, for a week.
Another song was also used in a horror short YouTube movie!
Music from No Serial Killers On YouTube
Also; Click Here To Vote For No Serial Killers in the UK Talk Radio Hot 100 charts
---
Reader's opinions
---