The Perfect Closing Script
Written by Mark Edwards on October 28, 2023
At UK Talk Radio, we want to highlight books that really work. Try;
The Perfect Closing Script
By Simon Bedros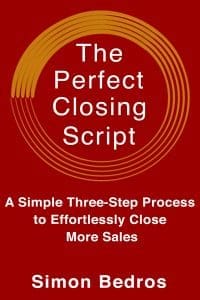 The Perfect Closing Script: A Simple Three-Step Process to Effortlessly Close More Sales (Communication Skills , Sales Techniques, Handling Objections, Closing Deals) 2nd Edition: Revised & Expanded Kindle Edition
By Simon Bedros
Ever felt that sinking feeling after missing a sale? Transform those missed opportunities into successes with "The Perfect Closing Script" by Simon Bedros.
Is This Book For You?
Whether you're new to sales or a seasoned pro, dive into strategies that make acing sales second nature.
Your Three-Step Blueprint to Sales Mastery:
Setting the Stage: Properly prepare and lay out your agenda for the sales conversation.
Qualifying and Understanding: Delve deeper than surface-level conversations and genuinely understand your client's desires.
Recap, Present, and Close the Sale: Close sales with confidence and finesse.
Why Choose "The Perfect Closing Script"?
This book isn't just theory; it's your practical guide to ensure every sales opportunity is fully leveraged.
Change Your Mindset: Adopt the mindset of sales elites.
Make Conversations Count: Understand how true client insights can skyrocket your close rate.
Craft The Perfect Pitch: Forge deeper and more meaningful connections with clients.
Master Objections: Turn challenges into opportunities.
Narrative Selling: Engage and build trust through compelling stories.
Continuous Growth: See every sale as a growth opportunity towards unparalleled excellence.
In this revised and updated second edition, delve deeper into proven sales strategies and techniques. Ready to elevate your sales game? Discover the secrets to sales mastery within these pages.
Transform your sales journey with "The Perfect Closing Script". Don't wait—get your copy today!
Purchase on Amazon -The Perfect Closing Script
…
---
Reader's opinions
---