The Book Bubbles & Balls
Written by dave smith on October 27, 2023
Bubbles & Balls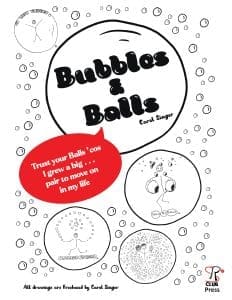 Carol Singer is an incredibly creative and free-spirited individual who is a professional singer, dancer, and the proud author of the book "Bubbles & Balls"  which is focused on uplifting and motivating people to step out of their comfort zone and trust their gut to lead a happy and fulfilling life. From a Degree in Dance to Physiology and Anatomy I & II, she acquired them all and honed her skills performing in the UK and overseas. But life was not as fancy as it sounds.
Being a single parent amidst the chaos of the pandemic, she stood firm against the challenges of life without giving up. She kept her inner light glowing and found relief in art and writing. Her mission has always been to lift others up while connecting to oneself and other souls on the journey to be the best of what we can be. It took Carol a lot to truly love herself from the core and let go of the negativities that hampered her mental peace. Not more than a year ago, she was technophobic but she practiced what she preached and stepped out of her comfort zone to hone her skills with technologies.
Young and strong at heart, Carol, at the age of 55 discovered that she was an empath. Ever since, her life took a different turn as she re-programmed and re-wired her thinking to rise above and trust her act and intuition. Carol dedicatedly submitted herself to follow her heart and live as a humanitarian for all. She believes in spreading positive energy and putting a smile on people's faces. Carol feels in her heart that fun and laughter are some of the best ways to heal and 'She trusted herself, grew a big pair and moved on in her life'
Bubbles & Balls: Filled With Words of Love, Motivation & Inspiration – Transmute Negative Energy & Take Control Of Your Life Following Your Heart – Trusting Your Instincts & You'll have a laugh too.  
Are you feeling trapped with the challenges in your life, consuming your soul?
You know who you are – Love and appreciate All that YOU are – You've got this.
The more vulnerable you seem, the more power people have over you.
Time to reevaluate – Muster up Courage, Strength, energy and take control of your own destiny. Conquering difficult times herself, author Carol Singer has flaunted her creativity in the book 'Bubbles & Balls' to inspire you to love yourself just the way you are.
In this book, you'll find:
Drive to listen to your inner voice – Trust your instinct.
Muster up the courage and strength – Take control of your life.
Power to spread positive energy wherever you go.
Force the shift in mindset – feel safe.
The spirit to let go of the ego and evolve.
& much, much more.
So 'Trust your balls, your Worth, your Uniqueness  – You've got this'
Click on "Buy Now with 1-Click", and Get Your Copy Now!
Also Read: Tokyo Treasures: Your Ultimate Guide
---
Reader's opinions
---