Runway Dreams A Pricey Affair By T.K Ambers
Written by dave smith on July 26, 2023
Runway Dreams A Pricey Affair By T.K Ambers
At Uk Talk Radio we love to feature book . We draw to your attention T K Ambers Runway Dreams
"Ambers' debut offers romantic suspense in a world of high fashion. It features memorable protagonists and a plot that unfolds with surprising twists and turns." – Kirkus Reviews
"Overall, Runway Dreams is a mystery that, thanks to plenty of light comedy, doesn't take itself too seriously. But when things finally turn and barrel towards the climax, readers won't be able to put Runway Dreams down." – BestThrillers.com
Runway Dreams is a dark and comedic thriller about family dynamics and what happens when the youngest sibling in a prestigious family of models falls for a con man with a dangerous past.
Grab The Offer Before It Goes!

Bernadette Price has everything an heiress could desire, except a romantic partner to share her dreams with. To remedy her situation, she turns to the world of online dating and meets Martin Day, a handsome and successful financial advisor who's moving to her town. Her sister has reservations about online dating, but Bernie is determined to meet Martin in person.
The couple clicks, and their relationship is on the fast track to marital bliss when a stranger brings unsettling news of Martin's past. The Price family finds themselves divided as they sort through who's telling the truth. But when Bernie disappears, her siblings must put their frustrations aside and help their sister reclaim her life before Martin claims theirs.
Previously published as Runway Dreams: A Black & White Affair (the author felt the new title was more suitable and would avoid confusion).
Grab the special offer price now!
 Pay Just 99¢ from Aug 11-15 and $1.99 Aug 16-17.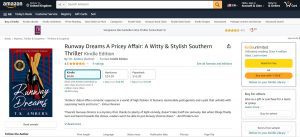 Also Check: We Kiss All Night!
---
Reader's opinions
---