The Respected Salesperson: How to change your mind before you change minds by Arishma Singh
Written by dave smith on October 18, 2023
The Respected Salesperson: How to change your mind before you change minds by Arishma Singh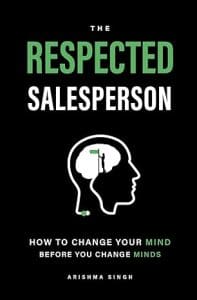 When someone tells you, 'Don't be salesy!', it almost feels like they are throwing a swear word at you.
But why is this so?
Sales is much more complex than number crunching, reading scripts, or having coffees with clients. For too long, we've seen sales as something external to us. As salespeople, we spend enormous amounts of time honing our skills and figuring out how to close effectively so we get more 'yeses' from clients. This is what we think will make us good salespeople.
And to some extent, it is.
But, in only focusing on the external work, we do not give ourselves the opportunity to realise our potential. You can see this in top athletes, performers, and artists. They don't just ace their external game. They also become masters of the complex inner game that truly underpins their performance.
This is the part of sales that Arishma Singh is passionate about – the inner mental game – and she is inviting you to lean in and take the journey. The internal work that must take place for you will move you beyond this perception of a salesperson. If you want to differentiate yourself, it's time you become the Respected Salesperson. For you to become that, you first need to change your own mind, before you seek to change the minds of others. This is where you will notice your very own genius will come forth.
Arishma will also introduce you to the THRIVE methodology that she developed to create sustainable success, and an evidence-based self-help therapeutic mind body tool that she uses on a daily basis – Emotional Freedom Techniques (EFT), known as Tapping. She will equip you with the tools you need to grow respect for yourself and, ultimately, the ability to command respect from others.
Reviews
📚 Book Review: The Respected Salesperson by Arishma Singh – Unleash Your Inner Sales Genius
Geoff Carter The UK Talk Radio Breakfast Show Host
Geoff Carter of UK Talk Radio Says;
Within the realm of sales, the expression "Avoid being too pushy in your sales approach" frequently carries an undertone of critique. But have you ever wondered why this is the case? Arishma Singh's book, "The Respected Salesperson: How to Change Your Mind Before You Change Minds," dives headfirst into this intriguing question.

A Fresh Perspective on Sales

For far too long, sales have been perceived as a game of numbers, scripts, and client meetings over coffee. As salespeople, we invest an enormous amount of time honing our external skills, all in pursuit of that elusive "yes" from our clients. This external mastery is undoubtedly crucial in becoming a proficient salesperson.

However, Arishma Singh challenges us to explore a different narrative. She invites us to look inward, to venture into the intricate inner journey that truly shapes our external performance. This approach echoes the strategies employed by top athletes, performers, and artists who not only excel in their external endeavors but also master the nuanced inner dimensions that define their performance.

Unlocking the Power of the Inner Game

Arishma Singh's passion lies in the uncharted territory of the inner mental game of sales. She urges us to embark on a transformative journey that commences with altering our own mindset before attempting to influence the perspectives of others. In this process, you'll unearth your unique genius.

In the book, Arishma introduces readers to her groundbreaking THRIVE methodology, a framework designed to facilitate sustainable success. Additionally, she shares her reliance on an evidence-based self-help therapeutic technique known as Emotional Freedom Techniques (EFT), commonly referred to as Tapping. With these tools in your arsenal, you'll acquire the means to foster self-respect and, consequently, command respect from those around you.

A Profound Shift in Perspective

"The Respected Salesperson" isn't your run-of-the-mill sales guide. It's a roadmap to transforming your outlook on sales and evolving into the Respected Salesperson you've always aspired to be. Whether you're a novice entering the world of sales or a seasoned professional, if you're seeking to stand out in the industry, this book provides the blueprint to unleash your inner sales genius.

Arishma Singh's work is a breath of fresh air in the world of sales literature. It encourages us to look inward, challenge our preconceived notions, and embark on a profound shift in our approach to sales. This book is an invaluable resource for anyone involved in the sales profession. It's a call to change your own mindset before you attempt to change the mindsets of others, and this transformative journey begins here.
……………………………………………………………………………………………………………………………………………………………………………………………….
"The Respected Salesperson suggest a truth for us all – that we are all in relationships and whether we think it or not, we are all in sales. Arishma elegantly weaves her own sales story throughout the book as she offers profound insights and more importantly, practical techniques, for us to thrive. Whether you are in traditional sales or just engaging every day in social transactions, this book is a goldmine of treasures to enhance those relationships. This is worth your time!"
Dr Peta Stapleton
Clinical Psychologist, Associate Professor Bond University
"What is that special something that makes one salesperson wildly successful while others who work twice as hard wonder what they are missing? Clearly, it's not just about working harder. In this powerful book, author Arishma Singh offers a personal and insightful perspective about how to THRIVE in sales by offering a transformative method designed for anyone in the sales field that is ready to observe their inner game and tap into powerful results."
Dr. Craig Weiner
Director, EFT Tapping Training Institute
"As a previous Sales Manager and now with a career as a Psychotherapist, I found Arishma's book fascinating and accessible. Anyone in sales with a desire to build their confidence, clarity and self-respect should read this book."
Barry Lewis
Gestalt Therapist
"As a sales leader looking for ways to enhance team performance you're often focusing on repetitive sales training and old school fixes. Most sales tuition or training is typically focused on buyer persona or sales process/methodology. Arishma has taken a different approach by providing honest and powerful self-reflection coupled with tools and techniques to support you to take control of your emotions, mindset and ultimately your performance."
Daniel Drake
Sales Director, Experian
"While this book is called The Respected Salesperson, it is not only for salespeople. Anyone and everyone who reads this book will come away with a better sense of self and practical advice on how to live a fuller life. Arishma is generous with her life story and does not shy away from speaking her truth even through her trauma. Bravo. I could not put this book down."
Adrienne Tam
Editor and Writer
"I was kind of blown away. A highly researched book – It was an excellent mix of factual learning, real life examples and with exercises. An excellent tutorial framework has been provided to those that wish to dig and learn about themselves. As a Founder, an Executive Search Recruiter of Senior sales roles and with over 20 years of experience within the industry, I have interviewed and recruited different personality types. I highly recommend The Respected Salesperson for anyone that wishes to change their sales game!"
Richard Beattie,
Founder | Director, Jenkin Beattie Recruitment
"Whether you are just starting out in sales or a veteran in need of a reset – The Respected Salesperson provides the reader with an excellent sales foundation focused on a healthy mindset paired with a number of tools to overcome not only sales challenges but some of life's adversities as well. The author skilfully weaves her emotive journey into the narrative to bring an authentic and well-thought-out sales philosophy to life."
Angus Leech
Australian Radio Network, National Agency Sales Director
Websites
Also Read: Tokyo Treasures: Your Ultimate Guide
---
Reader's opinions
---
Continue reading