Tied Down
Written by dave smith on October 17, 2023
Music from J.Á.H
Introducing J.Á.H.'s Captivating New Music Track "Tied Down": A Provocative and Ethereal Musical Experience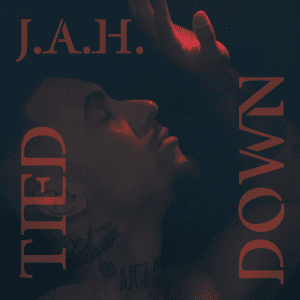 Up-and-coming artist J.Á.H., pushing the boundaries of his artistry, following his two previous singles: "In Denial" and "More Than Lust" J.Á.H. is set to release his highly anticipated new single "Tied Down." This captivating composition takes listeners on an enchanting journey filled with ethereal tones, a rhythmic beat, and thought-provoking lyrics.
In "Tied Down," J.Á.H. masterfully weaves together spoken word, rhymes, and his soulful vocals to transport listeners into a warm atmospheric listening environment. J.Á.H. creates a sonic experience that captures the imagination, delving into the world of illicit young lust and secret affairs between lovers who find themselves entangled in existing relationships.
As the track unfolds, J.Á.H. 's vocals and melodies evoke a range of emotions, from desire to apprehension, as the lovers grapple with the possibility of their secret being discovered. The provocative nature of "Tied Down" challenges societal norms, encouraging listeners to confront their own perceptions of love, commitment, and the consequences of pursuing hidden desires.
For those seeking a musical journey that embraces the provocative and challenges societal norms, "Tied Down" promises to be a must-listen. J.Á.H.'s exceptional talent and artistry shine through in this track, making it an unforgettable experience for all who dare to press play.
"Tied Down" will soon be available for streaming on all major music platforms. To stay updated on J.Á.H.'s latest news and releases, please visit t J.Á.H. – MorganHaus Entertainment, Inc. and https://yepitsjah.bandcamp.com. Also follow him on Facebook, X, Instagram, and Tik-Tok.
About J.Á.H.: J.Á.H. a musician known for his genre-defying sound and thought-provoking lyrics. With a unique blend of spoken word, soulful vocals, and hypnotic beats, he continues to push the boundaries of music. J.Á.H.'s artistic vision and talent have garnered him a dedicated following from audiences and critics alike.
Also Read: Radio Presenter Jobs UK
---
Reader's opinions
---