Wai Lana river of forgiveness
Written by dave smith on July 27, 2023
Wai Lana river of forgiveness
Wai Lana is a world-renowned yoga instructor who is credited with pioneering the modern-day yoga movement through her award-winning TV series, "Wai Lana Yoga," which has aired in the US and internationally for over three decades. For Wai Lana, yoga is not just a workout, it is a complete lifestyle that offers countless physical, mental, and spiritual benefits.
There is simply no artist that can be compared to Wai Lana. Her music videos are rich with spiritual depth, inspiration, and wisdom. Fusing captivating music, lyrics, and cinematography, Wai Lana's unique style belongs to a genre all its own—which has been described as 'music of the heart'.
Fans have become accustomed to Wai Lana releasing a new music video each year that expresses some of the deeper aspects of yoga, inviting her viewers into a world of peace, compassion, and respect for all. Her past videos include "Namaste, Colors, Beyond Time & Space, Lay Me Down, and She Speaks Sign Language.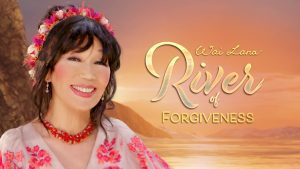 River of Forgiveness playing on Uk Talk Radio
We've all experienced difficulties with others, even with those closest to us. The relatable scenarios Wai Lana sings about in River of Forgiveness call attention to the unhappiness caused by holding on to negative feelings towards others. While simultaneously entertaining and meditative, River of Forgiveness delivers a playful, uplifting message that will transport you to a place of peace, joy, and light heartedness.
Review of River of forgiveness by Uk Talk Radio
Wai Lana's latest music video, "River of Forgiveness," is a captivating testament to the profound impact of yoga wisdom on all aspects of our lives. This time, Wai Lana intentionally chose July as the release month, aligning it with the Global Day of Forgiveness and the International Day of Friendship, symbolizing the intrinsic connection between forgiveness and friendship.
Through "River of Forgiveness," Wai Lana emphasizes the importance of forgiveness as a cornerstone of true friendship and its pivotal role in leading a happy, peaceful, and healthy life. The song's message applies universally to each individual and their daily experiences, offering hope rather than despair to those struggling with anger or resentment. Wai Lana firmly believes that forgiveness is a powerful and readily available solution for everyone.

Drawing from relatable scenarios in various relationships – be it with friends, family, neighbours, colleagues, or partners – the music video underscores the unhappiness stemming from holding onto anger. Yet, amidst the seriousness of the subject, Wai Lana maintains a playful and uplifting tone, skilfully guiding viewers to a place of inner peace, joy, and light-heartedness. "River of Forgiveness" stands as an entertainment piece with a meditative touch, beckoning audiences to revisit it time and again.
Scenic Locations In The YouTube Video
Expect the familiar allure of Wai Lana's stunning scenic locations, but be intrigued by a new sight: Wai Lana in a jail cell, symbolizing how harbouring anger locks us in a self-made prison. It's a powerful visual metaphor for viewers to ponder. Wai Lana hopes the music video strikes a balance between entertainment and reverence for its subject, providing both inspiration and relief from the burden of anger.
Her message resonates deeply: Though not everything in life is under our control, each of us possesses the power to forgive. While choosing to cling to anger is our prerogative, we must acknowledge that peace and happiness cannot flourish amid the thorns of anger and resentment.
Also Read: Writers of the Future Volume 39 now in UK bookstores
---
Reader's opinions
---